Nina Freedlander Gibans has written histories of the community arts council and children's museum movements, regional art, architecture and poetry.
Publication Overview
Non-Fiction
The Community Arts Council Movement: History, Opinions and Issues, (Praeger -Greenwood Press 1982; New Academia Press (2nd edition) 2006.)
Creative Essence: Cleveland's Sense of Place (Kent State University Press 2000).
Cleveland Goes Modern: Designs for the Home:1930-1970 (Kent State University Press, 2014) co-author James D Gibans.FAIA –foreword by Paul Goldberger NYTimes and New Yorker architecture critic with articles in Cleveland Plain Dealer and Cleveland Jewish News. (Awards)
Understanding Children's Museums Bridges to the Future-Edited with Barbara Kres Beach (Mandel Center for Nonprofit Organizations – Case Western Reserve University 2199) –with major review/retrospective by Mary Mahrer in document on anniversary of Children's Museum 2017/ for Association of Children's Museum
Cleveland Poetry Scenes: A Panorama and Anthology (Bottom Dog Press 2008). Co­edited by Mary Weems and Larry Smith (Small Press review July/August 2008 Award)
Celebrating the Soul of Cleveland: ATBOSH MEDIA Inc. (2018) (see CAN JOURNAL review by Christopher Johnston, Jan 4, 2020)
Buckeye-Shaker: Who We Are, Where We Live Washabaugh, Cindy, editor. online anthology,  Literary Cleveland (in conjunction with the Ohio Humanities Council),   https://www.litcleveland.org (2017).
 Catalogues and Art Publications
Charles F. Schweinfurth: Uncompromising Architect of Cleveland's Valiant Age – Curator and writer team headed by Anthony Hiti AIA and Robert Blatchford RA, James D .Gibans FAIA and Pamela Eyerdam, Special Collections Manager, Cleveland Public Librray. Published by ARTneo, the Museum of Northeast Ohio Art and Architecture with support of Cleveland Public Library and Trinity Cathedral (2013)
Silver Apples of the Moon: Project with the Shaker Heights Public Library, Cleveland Museum of Art, Macs Backs Bookstore with community involvement and visiting poets Robert Pinsky and Naomi Shihab Nye, Cleveland State University Poetry Center, Imagination Series #10 editor, Neal Chandler (2005) co-director Sollace Kissel .
Cleveland for Kids: A Let's Have Fun Guide to Cultural Cleveland for Children, Families and Friends with others: The Cleveland Arts Consortium (1993)
Program notes for the Cleveland Chamber Music Society- mid-nineteen fifties. ARTS FOCUS -A series of 13,programs on the arts aired on WCLV- 1981-spondored by the H.V. Kaltenborn Foundation.
Poetry
And So I Must Imagine (XLibris 2009) about family origins in Wooster Ohio.
18 Gardens and their Gardeners (1999) written with photographs by artist Michael Loderstedt, with an Ohio Arts Council artist project award. Stories from the roof-top gardeners at Shaker Square's Shaker Towers Condominiums.
In 2018 and 2019 have published chapbooks through ATBOSH Media Ltd: towards memory… and The Garden of Old Age (a series inspired by my participation in the August 2018, 30/30 Tupelo Press project.).
Wings Drying in the Sun, manuscript in process 2019.
Published by ATBOSH Media Ltd., 2019.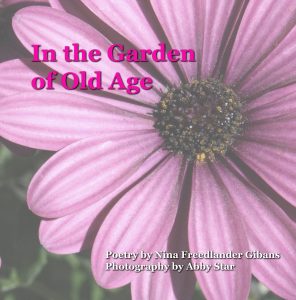 In the Garden of Old Age by Nina Freedlander Gibans Photography by Abby Star
In the Garden of Old Age is a series of poems about memory – collected ideas from a rich life with continuous interactions — ideas and people, spaces and inner thoughts colliding daily in these summary years which pile up and tumble to the pages like leaves in fall. This will be ongoing…
Judson Smart Living – Still Blooming
Published by ATBOSH Media Ltd., 2018.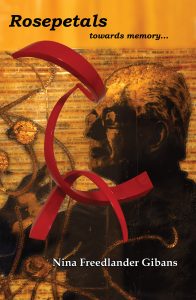 Rosepetals: towards memory… by Nina Freedlander Gibans
On May 10th 2018, Jim Gibans, Nina's husband of more than 60 years died. In April of 2018, when Jim's health started to decline, Nina wrote to him, she wrote him poetry. She wrote him a poem almost every day. And she read them to him. Rosepetals: towards memory… is a collection of poetry by Nina Gibans in honor and celebration of her late husband Jim Gibans.
Published by ATBOSH Media Ltd., 2018.
Celebrating the Soul of Cleveland summarizes a life in Cleveland, a city whose very identity provides sustenance and support to all who welcome it into their heart. The project started with a simple discussion. The premise of this book and for the projects described in it is: Evolution.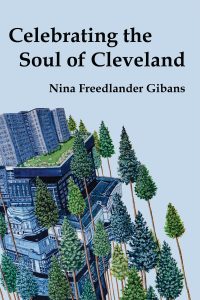 Community Arts Leader, and Cleveland Arts Prize winner, Nina Gibans loves our collective "aha" moments, when we "get it" and roll along – excited – together. Using images, stories, poems, interviews, reflections, and reminiscences Nina weaves together a new gestalt, a whole that is often present long before the pieces are put into place. A lifetime of experiences, encounters, discussions, are the parts of this, a multi-tasking of the mind, combined until they find the parts make sense and there is a city – a community.
"Here is to all of the men, women, and children who have stuck with me through my life of joyous adventures and to the support of a loving caring husband and friendly critic whose bloodstream ran in the same direction as mine." – Nina Gibans
Praise for Celebrating the Soul of Cleveland:
* http://canjournal.org/2020/01/nina-gibans-celebrating-the-soul-of-cleveland/
* https://www.cleveland.com/entertainment/2019/02/arts-activist-nina-gibans-celebrates-the-soul-of-cleveland-in-new-book.html
* https://www.judsonsmartliving.org/blog/judson-park-resident-nina-gibans-connects-the-dots/
Cleveland Goes Modern: Design for the Home, 1930 – 1970
With James D. Gibans, FAIA Emeritus. Published by Kent State University Press, 2014.
Midcentury Modern domestic architecture in NE Ohio
Background: Exhibition 2007. Chief Curator DON HISAKA: THE CLEVELAND YEARS produced by Cleveland Artists Foundation. The exhibit was shown at the Beck Center for the Arts, Cleveland Clinic and Mansfield Art Center March 2011 – Spring 2012. The houses from the exhibition have also been shown at the Shaker Historical Society celebrating Shaker Heights' 100th anniversary. The Hisaka residence is the only home in Cleveland to have won a national honor award from the American Institute of Architects.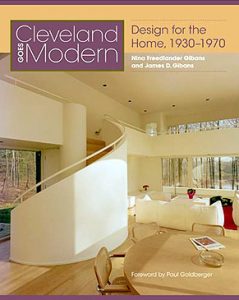 Based on the award-winning exhibition of the same name, Cleveland Goes Modern: Design for the Home, 1930–1970, examines Modern movement houses  in greater Cleveland within the context of American Modernism as a whole. The authors demonstrate that understanding and contextualizing this regional domestic architecture, along with the practitioners and clients who created it, makes a valuable contribution to the larger study of architecture and the Modern period as well as of the region's architectural history.
Beautifully illustrated with more than 150 drawings and photographs in color and black-and-white, the book features the work of six architects: Don Hisaka, John Terence Kelly, Robert Little, William Morris, Ernst Payer, and Fred Toguchi. In their own words, the architects, clients, and restorers discuss the homes they created and preserved. Cleveland Goes Modern also documents other modernists who practiced during this period and the role they played. It examines how the modernist sensibility and tradition survives and thrives in national and local twenty-first-century architects. Functioning as both a historical overview and a gazetteer of significant examples, Cleveland Goes Modern makes a compelling case for preserving the works of architecture from the period.
Some of the homes featured in the book have been torn down since the project began; others may be altered or disappear in the future. Cleveland Goes Modern makes a lasting contribution to the study of architecture, one that will serve students and scholars of architectural history for generations after these singular structures no longer exist.
Cleveland Goes Modern won the 2014 prize from the Western Reserve Architecture Historians.
Nina Freedlander Gibans has written about architecture and developed a website related to the exhibit and this book. She has served to critique the work of architecture of students at Kent State University School of Architecture. The images from this project have been used in course work at the college and at John Hay High School.
James D. Gibans, FAIA, was a product of the midcentury Modern movement, graduating from Yale University with a B.A., B.Arch., and M. Arch in the mid-1950s. Following a Fulbright Grant for study in England and six years of architectural practice in the California Bay Area, he returned to NE Ohio. He received an award from AIA OHIO for PUBLIC SERVICE in 2014.
Letter to the Editor, Wellesley Magazine
On Cleveland's Philip Johnson and his connection to Wellesley. Johnson headed the first Department of Architecture at MoMA.
The Community Arts Council Movement: History, Opinions and Issues
First edition published by Praeger, 1982; Second edition by New Academia Press, 2006. New Edition coming 2021 ATBOSH Media Ltd.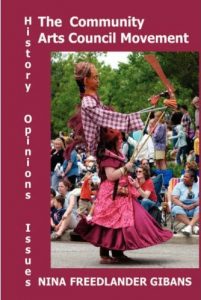 Vigorous. Confused. Pervasive. Ineffectual. These are only a few of the contradictory adjectives applied to the Community Arts Council (CAC) movement during its 30-year history.
Supporters and critics agree that the movement has perpetuated the democratization of the arts but has not always dealt long and hard enough with clarifying the roles of the arts in the community.
Nina Freedlander Gibans points out the more than 1,000 existing councils have served their communities according to the needs of the individual locale frequently stimulating new support for the arts from an ever- broadening base. Their legitimacy established, CACs can strengthen their position by developing creative community cultural planning, providing an educational advocacy for arts issues, and extending the bases of private and local public support.
The Community Arts Council Movement is a history of the movement which traces its beginnings to models in the health and welfare fields. It presents the history of the movement as it has been captured and recorded from people who have been involved. Research for the book includes written materials from various councils; about 150 discussions with specialist and practitioners from urban councils and regional, county and rural organizations; and questionnaires completed by movement founders, community arts administrator trainers, and local and national political figures who have promoted community arts to their peers.
Creative Essence: Cleveland's Sense of Place
Published by Kent State University Press, 2005.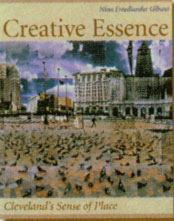 Arising out of the Cleveland Artists Foundation's Dialogue Series, a 22-hour-long collection of forums held in cultural institutions and broadcast on Public Radio, Creative Essence examines regional culture through an exploration of the distinguished contributions Cleveland has made to the visual arts and architecture. The Dialogue Series brought together a variety of people in the visual arts community to discuss the development of the region's creative life and environment, whether it be through architecture and city planning or through the industrial and fine arts. They shared their views and knowledge about how regionalism has long influenced artistic productivity. Their exchanges and ideas for the future are provocative and thoughtful.
Richly illustrated with the work of well-known Cleveland-area artists and architects, past and present, Creative Essence explores the region's tradition, beginning with the "Cleveland School" of artists that was active and influential during the first half of the twentieth century. It moves on to examine the changes that occurred in the last half of the century and the development of the visual arts in northeast Ohio.
Creative Essence is an important resource for understanding the significant role the visual arts play in our cities and societies and how they contribute to the region's quality of life. For those interested in regional history and for students of art history and the visual arts, this will be especially valuable.
From Cool Cleveland Managing Editor Peter Chakerian

Northeast Ohio arts activist and supporter Nina Freedlander Gibans has always had a passion for the local arts scene. With her groundbreaking compendium, Creative Essence: Cleveland's Sense of Place, she has taken that passion and integrated it into a provocative, New Monastic revelation—one that scrupulously documents the history and role of visual art in Northeast Ohio.

But it's far more than just a list. In fact, it is no stretch to say that Creative Essence is the quintessential resource for thoughtful understanding of our region's history, art, and inevitably its art history. With a charming and accessible writing style and amazing illustrations, the book focuses on everything from painting and photography, to architecture and a future filled with multimedia and other mediums.

Creative Essence really gets at the crux of regional culture through exploring contributions in Cleveland, made by Clevelanders, and the impact those offerings have made to the visual arts and architecture across the board. As one consumes the book's scope of factual information and engaging visuals, the understanding of how talent has thrived here unfolds right before the eyes.

The book is the result of the Cleveland Artists Foundation's Dialogue Series—a 22-hour-long collection of forums held in cultural institutions and broadcast on National Public Radio. Those discussions included knowledge sharing of how regionalism influenced artistic productivity.

She also includes a bonus, 46-minute DVD, selected for the 2003 Cleveland International Film Festival, which makes for an incredible companion and supports the eye-popping revelations within the book. To that end, the author leaves no stone unturned, covering all the notables—Schrekengost, Mieczkowski, Burchfield—while talking through inspirations, partnerships and support that our region has offered to allow local talent to flourish.

And as if that wasn't enough, consider that one of the late Masumi Hayashi's photo collage pieces, 1994's Public Square, graces the cover. Published before recent tragic events took the artist's life, the book's cover adds a poignant connection to what stands ostensibly as the must-have Northeast Ohio art reference.
Bridges to Understanding Children's Museums
Published by the Mandel School of Nonprofit Organizations at Case Western Reserve University, 1999. New Edition coming 2021 ATBOSH Media Ltd.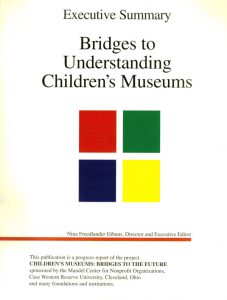 And So I Must Imagine
Published by Xlibris, Corp., 2009. New Edition coming 2021 ATBOSH Media Ltd.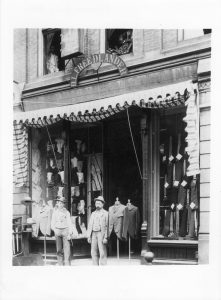 And So I Must Imagine is about my sense of place and family heritage, and my city as I reflect on its past, present and future. Families and friends, homes and second homes, and cities where one has lived most of a lifetime draw one's unique lifelines. I lengthen my lifelines every day.
In their studies of regional poetry, independently and without the poet present, classes at John Hay High School and Shaker Heights Middle School voted the poem LETTERS their favorite from the book (see www.clevelandpoetryarchive.com).
18 Gardens and their Gardeners
With Michael Loderstedt, photographer. Published by Ohio Arts Council Artist Projects, 1999.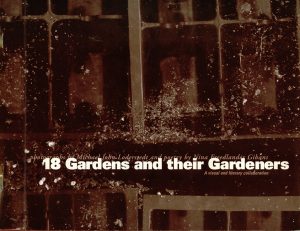 This publication celebrates 18 gardens created and grown by residents in 25 inches of soil on the garage roof of their living complex. Through photograph and writings, we reflect the changes in the gardens, flower-types, garden traditions, garden designs–the shape of personal garden histories.
Cleveland Poetry Scenes: A Panorama and Anthology
With Mary Weems and Larry Smith. Published by Bottom Dog Press, 2008.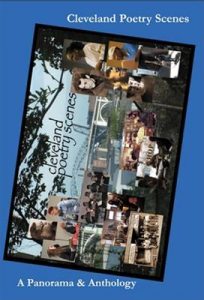 Cleveland Poetry Scenes: A Panorama and Anthology was initiated and co-edited by Nina Freedlander Gibans with Mary Weems and Larry Smith. Aspects of the project were funded by the Martha Holden Jennings Foundation and included pilot sessions in the schools and the development a website with the assistance of Mark Kuhar.